Tech Talk
The Kokua viewer 3.8.6 has been released with availability for all platforms bringing the viewer  to parity with Second Life version 3.8.6.305981 and Marine Kelley's RLV version 2.9.15.1
Highlights for this version are:
SL Notifications Release 3.8.6 [1]

SL Maintenance Release (viewer-bear) 3.8.5 [2]

Upstream RLV version 2.9.15.1 See Real Restraint Blog

Upstream RLV version 2.9.15 See Real Restraint Blog

Kokua Team Contributions and Fixes

Uploading a Blender generated dae, and NOT retaining material group order Bug 10326

[OpenSim] Set Lag Meter Server section to operate at 11 fps.
Notifications are now shown in a separate floater and organized by category, where they also can easily be deleted. This is a welcome addition that reduce message clutter, particularly on login where group message notification could be overwhelming.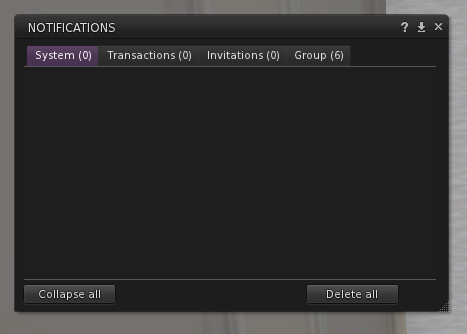 More details and download links in the Kokua Blog announcement.  Mac users can also download it from MacUpdate.
The Mac version of Kokua has been built with Xcode 7.1.1 resulting in a reduction of the frequency of GPU restart viewer crash when running on OS X 10.11.x.  The issue is under investigation by Apple Engineering for possible resolution.